This is me: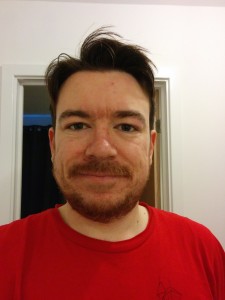 Obviously the first thing you notice, after my devilishly handsome good looks, is that I have around the lower half of my face what has the potential to be described as,  if one is kind: a 'beard'. It is patchy, it is more than often unkempt, and it is quite ginger, but it is somewhat beard like. I can no longer remember when I grew this beard, but I like it. I like it so much that I refused to shave it off when I graduated in 2013, and again when I got married earlier this year.
However, ominous things have happened. Recently, a mate and colleague done a tweet:
I beat testicular cancer this year. To contribute to research I'm supporting @MovemberUK - join the team http://t.co/7mtTE7kVmD @cardiffuni

— Pete Burnap (@pbFeed) October 20, 2014
"Good on Pete" I thought. Good cause. I did Movember back in 2011, and it was hard, because quite frankly with a moustache I look like a complete tit. At the time I was doing it, I think Pete and I were sharing an office, so he knows how much of a tit you can look like during Movember, yet he's chosen to do it anyway. Well done.
Of course, you won't catch me doing it. I have a beard now, and I won't shave that off. Also, as I mentioned, I look like a complete tit when I grow a moustache. It was fine in 2011, I was only an RA, so I could just hide in the office and work. The only person affected was my wife, who sadly had to be seen in public with me. I'm a lecturer now. I can't just hide in my office. I have to teach. I have to stand up in front of students. I can't do that looking like a person who belongs on some sort of list.
Then Vince Knight joined Pete's team:
I am now apparently putting my facial hair to the test and have joined @pbFeed for @MovemberUK. My page is here: http://t.co/IswbUL7sEG

— Vincent Knight 📎 (@drvinceknight) October 21, 2014
"Well done Vince" I thought. Good cause. At least Pete won't look so daft walking around campus with a 'tache now. There'll be two of you at least. Not me of course. No way.
Then Pete done another tweet:
@drvinceknight @MovemberUK Yeah you have!!! @voxmjw @martinjc @walter_colombo1 @MattLWilliams @docjaq @flyingSparx Get involved!!

— Pete Burnap (@pbFeed) October 21, 2014
Oh.
Pete's called me out. He wants me to join in. Maybe we'll just all ignore him and it'll go away.
Then I done a tweet:
@pbFeed @drvinceknight @voxmjw @walter_colombo1 @MattLWilliams @docjaq @flyingSparx hard to say no, I did look fabulous last time.

— Martin Chorley (@martinjc) October 21, 2014
WTF? What did I just do? Did I agree to do Movember again? Why? I have no idea. Perhaps I enjoy looking like a tit?
So. I joined. As did many others that Pete called out. And now we're all going to grow moustaches and demand money from our friends, relatives and colleagues. It's a good cause. You can donate to us, our team page is here.
First though, there's business to take care of. The beard had to go. I had to locate my shaving equipment, which has not been used in many years, and attempt to remove the lovely facial hair to which I have become so attached, without slicing my face apart in the process: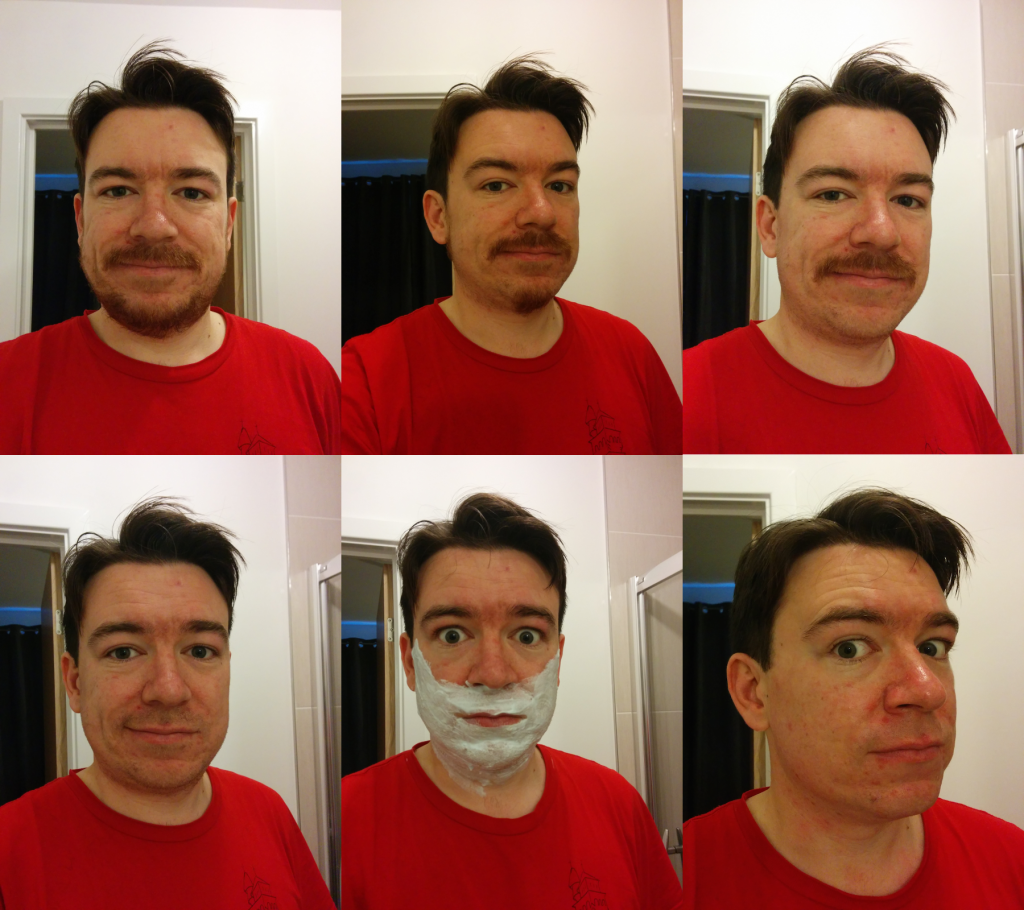 So that's it. The beard is off and I am clean-shaven for the first time in I don't know how long. This, I think, is quite the sacrifice. But there is more to come. The 'tache is on its way - slowly working its way out of my upper lip. I am going to look terrible. If you in any way feel inclined, please make it worth it. Donate to me or the team. Don't let my beard have fallen in vain.  After all (I came up with this last night while very drunk and I LOVE IT):  beards grow back. Balls don't.